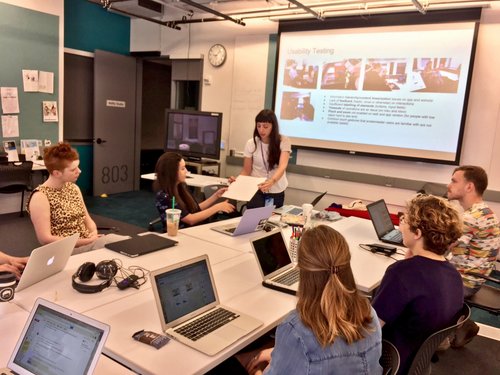 In this user experience research project, a small but diverse team of engineers, designers, and clinicians evaluated the accessibility of a Charter Communication's video streaming products on TV set-top box, Roku, iPad, Xbox, and web-based interfaces. We took an inclusive approach to accessibility testing and redesign work, with the aim of incorporating end-user perspectives, and creating more universally accessible prototypes that benefit a broad range of users across platform user experiences.
The three phases of this research are 1) Product evaluation, 2) Prototyping and, 3) User Testing (of our novel prototypes). At each stage, our team employed a qualitative and user-centered approach to the design and development of accessible video streaming technology.
Product Evaluation
The goal of the initial phase, or user study, was to better understand accessibility issues in using the client company's home entertainment products. At this phase, we addressed the following research questions: 1) How does accessibility vary across various platforms and devices?; and 2) what are the user experiences associated with accessibility issues that are perhaps not addressed by accessibility standards (common to use of video streaming services)?
One of the central aims of the project was to incorporate user input and narrative feedback into our design work. Incorporating the feedback of users with a variety of disabilities was essential to our understanding of video streaming accessibility issues and our prototypes and proposed redesigns.
Participants:
Participants with visual, motor, cognitive and hearing impairments were recruited for usability testing from partnering organizations. Each participant consented to participation and signed a photo release. For this user study, we recruited a total of 9 participants between the ages of 28-64. Participants reported watching TV an average of 5 times a week, and used a variety of methods (streaming online, using mobile apps, set-top boxes and digital media players) in various combinations. Only one user reported watching exclusively on a TV set-top box (STB).
Product Evaluation Results:
Prototypes
Based on the feedback we got from the product evaluation, we developed the following prototypes:
GUI Redesign
HTML Prototype
AI and Crowd-Sourced Descriptions
Onboarding
GUI: The first round of usability testing revealed a number of issues that users encountered when interacting with GUIs. The text and icons were too small, menus and program information pages were difficult to navigate, video playback upon launch of the application was disorienting (especially in combination with screen reader speech synthesis), and intensive scrolling contributed to physical and mental fatigue. Our design followed WCAG 2.0 standards and featured large icons. The information architecture was restructured based on participant expectations of where to find various categories of information.
HTML Prototype: The design focused on the challenges participants experienced in usability testing: difficulty finding the search feature, improper labelling of page elements, and inconsistent information architecture that made it difficult or at times impossible to navigate. The prototype had a prominent Search feature with the search bar already selected to immediately capture text input. Pages were organized by headings for easy navigation to content and relevant buttons. Title text was included for every navigable item on the page, including images, to enable screen reader users to search for specific items rather than browsing.
Crowd-Sourced and AI Descriptions: During the first phase in which we performed a user study with existing products, we found a number of usability issues whose root cause lie in the poor quality of metadata provided by a third-party company. Participants found it difficult to find programming that was available with video descriptions, and some programs incorrectly indicated Descriptive Video Service (DVS) was available. To address the issue of inconsistent and missing video descriptions and captions, we developed a video description (VD) prototype that was created with a novel application of artificial intelligence (AI) and crowdsourcing.
Onboarding Prototype: In response to some of the general orientation and feature use issues that users had, the onboarding prototype (Figure 4) was developed as both an interactive Keynote mockup and HTML. The prototype addressed difficulties users experienced by providing instructions for navigation, player controls, and accessibility settings. It was decided that a multi-modal approach to the delivery of information was most appropriate to suit a range of needs. To this end, the design supports simultaneous text-based, auditory descriptions and detailed visual/gestural/tab-order cueing of the web application's interface and features.
Stripped down interface with prominent search feature, and larger font size.
user testing screen reader compatible prototype
Crowdsourced/AI Descriptions
novel technique for generating inbiased audio descriptions
GUI Redesign
HTML Prototype
AI and Crowd-Sourced Descriptions
Onboarding
Participatory Design of Remotes...

Resulting designs from participatory session:
Remote control application for connected device.
 
Striped-down remote with accessibility setting button, and configurable touchpad.
 
Flexible remote with thin profile.